Cave Tubing and Zip Line $95.00
Experience exhilaration! This is just one of the feelings you may have as you imitate the Black Howler monkeys of Belize, zipping through the treetops about 70-80 feet above the forest floor in interior Belize!

Geared up with harness, helmet and hand gear, with your legs dangling free, you'll find yourself sliding along a double (for maximum safety) cable zip line to each of the 8 landing platforms strategically located in the canopy of this lush tropical rain forest. The platforms, between 100 and 245 feet apart, all are equipped with handrails. The birds and monkeys are friendly, and a bit curious as to whom these large creatures are, sharing their habitat.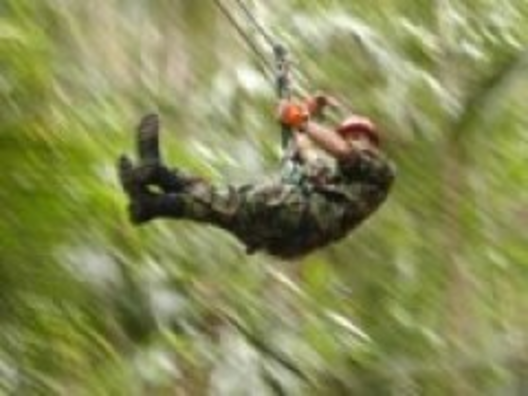 You'll ride in air conditioned comfort for about an hour to your "jumping off" point (more truth to that phrase than you might imagine). Then spend time acting like the birds and wildlife in the canopy, gliding platform to platform. After your zip line adventure, rappel to the ground from the last platform, and enjoy a local Belizean lunch at the resort's restaurant, fit for the hungriest canopy zipper.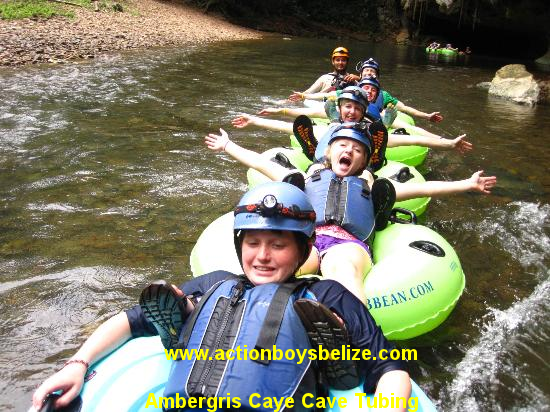 ---
Cave Tubing and Zip Line Tour Details
The zip line and cave tubing that we offer is designed to last 5 hours to 5 hours and a half. It include a 50 minuted drive to the site. As we drive to the site we will be doing presentations on Belizean History.
When we arrive at the site we will have a short restroom break. After the restroom break we will get geared up for the zip line tour. The zip line tour last approximately an hour. After the zip line we will have another break so you may get into your swimming gears. After the break you will be issued with an
inner tube
, headlamp, and a life vest. We will then start our hike through the rain forest. As we hike we will be doing presentations on Medicinal Plants, Indian History, and Belize Cave Systems. The tubing part of the tour last approximately an hour to an hour and a half.
After the tubing we will head back to
Belize City
. We will be passing the
Belize Zoo
. You can add the Belize Zoo to the day's activities with no extra cost. All you need to do is pay your entrance fees ( $15.00 ) and we will do the tour of the zoo with you. You will also be offered a complimentary tour of Belize City- where you get the chance to see some of our historical sites.